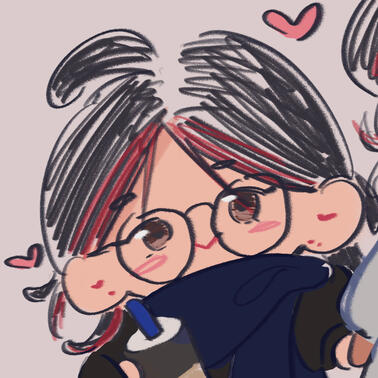 KRYSTAKI
[chris-tah-kee]
---
digital artist
COMMISSION STATUS: open
For business inquiries, please write me an email.
art usage questions
repost policy?
no reposts please.

may i use your art as my profile picture?
yes, with a mention in the bio (@krystaki on IG and @KrystakiArt on TWT)

may i use your art as my phone wallpaper?
sure, i have no problem with that :)
general art questions
specs and program
device: ipad pro 11" 2018 and apple pencil 2
program: procreate
canvas size: i start off with 3000 x 3000 at 300 dpi and adjust as needed.

how long have you been drawing?
digitally for around 4 years on and off

what is your commission status?
check the top of this carrd on the main page!

brushes:
JingSketch Basic 10 Set
i change brushes all the time though lol

how did you learn to draw?
i'm pretty much self-taught by the internet. reference from real life and when you want to stylize, find other artists!
contact me to get on the waitlist!
general information
Please send all inquiries to either my social media links or my email!

Payment is through PayPal only

Prices are listed as USD!

PSD file available for extra charge.
What I can draw:
Characters from shows/movies/anime/games, etc

Real people

Original characters

Animal features (tail, ears, whiskers)

Blood/revealing clothing
What I will not draw:
NSFW

Anything discriminating against a certain race, etc.
terms of service
---
General Terms:
Payment will always be upfront!

If the order is $100+, split payments available

Message me for commercial work, I will charge around 50% more depending on the type of work
Refund Policy:
A full refund will be permitted prior to starting the approved sketch.

Only 50% will be refunded after I start the sketch

A refund will not be permitted after you have approved of the lineart/cleaner sketch
Revisions:
Revisions after the final piece has been completed will not be made
Additional Charges:
Additional charges may apply to designs with more complex features, such as armor, animals, lace, etc.
Copyright and Reproduction:
Commissioned art (including original characters and fanart) CANNOT be used for reselling, commissions are for personal usage only

I reserve the right to claim the commissioned piece as my own work

I reserve the right to include commissioned work in portfolios, commission sheets, etc.

I reserve the right to include the commissioned work in commission examples, portfolios, etc.
Deadlines
If there is a specific deadline that must be met, please let me know beforehand. A deadline cannot be less than 2 weeks from the beginning, depending on how complex the commission is

2-12 weeks for completion (may be longer due to school).

Rushed deadlines are acceptable with a fee (30 to 80% more)
prices (USD)
| Commission Type | Lined Only | Full Colour | Description |
| --- | --- | --- | --- |
| Headshot | $15 | $40 | White background and transparent available if requested. |
| Waist up | $25 | $65 | Includes simple background. White background and transparent available if requested. |
| Thigh up | $40 | $85 | Includes simple background. White background and transparent available if requested. |
| Full body | $55 | $115 | White background and transparent available if requested. |
| Special Commission Type | Price | Description |
| --- | --- | --- |
| Character Sheet | $130 | Includes coloured sketches of 1 full body, 2 bust ups and 1 semi chibi + descriptive words. White background with solid block and transparent available if requested. |
Extras:
+ background / background details (+5 - 15 USD)

+ painted hair instead of lined hair (+10 USD)

+ extra characters in one piece: multiply the price by the amount of characters + 5% discount off of total price for each character

for example: waist ups of two characters together = $65 x 2 = 130 - 6.50 = 123.50 in total.
examples:
Headshot
Waist up
Thigh up
Full body
Character Sheet
order process:
1. Contact me through [email protected] or through Instagram or Twitter and then fill out my google form:
click here

2. We will discuss additional details and you will send the money directly through a PayPal link I will provide

3. Progress shots

This includes the sketch, line art, and colouring portion if applicable

4. Finished Commission

I will provide a watermarked and unwatermarked version (for your personal usage) in PNG format sent through email :)

If you have any questions, please do not hesitate to contact me through my social media outlets or email!
krys
she/her | 19 | chinese-canadian | july 26
---
I enjoy talking about / drawing genshin a LOT

uni student !! who is dying why did I choose STEM